In part 1, we looked at what money drama is. Yet, money drama doesn't pop up out of nowhere. It's moulded over several years. These become our containers of beliefs and they exist to give us a much needed shortcut when trying to make sense of the world around us.
These containers are filled through 3 ways: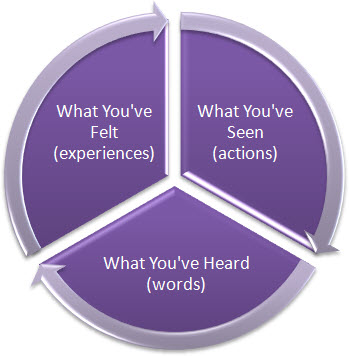 The situation or sequence of events that is highly emotional, tragic or conflicting and affects your ability to experience peace with your money is rooted in the what you've seen, experienced and heard while growing up. And because our very first teachers are our parents, we tend to model our money story based on how they reacted towards money.
A baby isn't born knowing how to manage money.
That's what T. Harv Eker wrote in his book, Secrets of a Millionaire Mind. Babies are born with two hands, two feet, two legs, two arms, eyes, ears, nose and you get the point. Babies aren't born holding a fistful of cash, shouting "I've got money and I know what to do with it!"
Think back to your childhood…
If you were to think back to a moment in your childhood, you'll be able to see the direct connection to how you manage your money today.
For example, many faith-led women grew up in environments where 1 Timothy 6:10 was misquoted and were taught that money is evil. A mother or a father then lived a life and said things about money that amplified its evilness.
And because money is evil, many faith-led women grow up to get rid of this evil thing called money. They don't save money because to do so would be to hang to an evil thing.
The money messages I heard…
Any time my sisters and I would ask my dad for money, he'd get angry. I never remembered any of the words he'd say, but I do remember his reaction. A few hours later, my dad would produce whatever amount I had asked for.
I soon feared asking for money. And it's no wonder that in the early stages of my business, I was broke even though I looked successful.
People would invite me to speak at events and I didn't have the money conversation with them. Prospects would show an interest in my consulting services and I avoided talking about the money.
I feared that as soon as I asked for the money, the prospect or event planner would get angry, just like my father did. And as a former nice girl, I really wanted people to like me. Through some really powerful work, I was able to overcome this, but this plagued me for a long time.
What are the money messages you heard growing up?
The first step in getting rid of the money drama is to acknowledge the container of beliefs that have shaped your view of money. What did you hear? What did you see? And what did you experience? How do your containers of belief show up in how you manage money today?
Share your answers to the questions in the comment area below. I'd love to read your experiences.