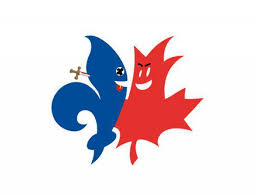 I learned my first French words when I was 13-years old. My Grade 8 teacher, Mrs Drabique, spent an hour a day teaching us French.
I then fell in love with the language…
In high school, I took a French class all four years. Only one French course was required to graduate with a high school diploma, but I took a course in my freshman, sophmore, junior and senior years.
In university, I majored in French. I didn't do too well. I decided to drop French as a major and instead, take French conversational classes just so I didn't lose my French language skills.
Because of my love of the French language, I became engrossed in its national and international news…
I'd read L'Acutalité each month, a Quebec version of Maclean or Time magazines. I'd watch RDI, the French equivalent of CNN or CBC. I soaked up French news left, right and centre so I could not only improve my French comprehension skills, but also be in the know.
I became so utterly aware of sovereignty…
In Quebec, language is culture. The two cannot be separated. And because I majored in History in university, I know about the long history between the French and English in Canada.
Quebec license plates say "Je me souviens" which means "I remember." What do they remember? A historian at my alma mater said that the French remember their embarrassing defeat in 1759 on the Plains of Abraham at the hands of the British. The victors then started to dictate the actions of the victims.
Since then, every generation has to deal with the issue of sovereignty. Sovereigntists want Quebec to secede from the dominion and operate as an independent country. Federalists want Quebec to remain a province within the dominion of Canada.
It's a tension that every generation has to deal with…
I remember going on a six-week language bursary program in the Summer of 1998. I lived with "une famille Québécoise" for those six-weeks. I, along with dozens of other English Canadians made the trip on VIA Rail to Rivière du Loup, a small town in rural Quebec.
No one spoke English in Rivière du Loup…
I was forced to speak French the entire time. I wasn't a beginner, but I also wasn't fluent. So, it was a tough six weeks. I couldn't understand mon père Québécois. He stopped talking to me after I kept saying "Pardon?" a half a dozen times. Ma mère Québécoise was a character. I understood her and had most of my conversations with her. Ms Aubine was her name and she was such a hoot.
When I was in Quebec, it was shortly after a referendum on sovereignty was held…
A question was posed to the people of Quebec. They were asked whether they wanted to start a conversation on making Quebec an independent country. (see this for more)
51% said "No." The sovereigntists lost the referendum. AND THEY WERE PISSED. Jacques Parizeau, one of the architects of the referendum, angrily sputtered that the loss should be blamed on "money and the ethnic vote."
I am ethnic and on top of that, anglophone…
While in Rivière du Loup, I was called "une petite anglaise." I smiled, thinking it was a term of endearment. The daughter of ma mère Québécoise" was within earshot and told me, en francais, that being called "une petite anglaise" was a slur. The sovereigntists were still smarting after their lost in 1995 and some in Rivière du Loup made me and the other English students feel unwelcomed.
Even my instructor wanted to engage us in a discussion on sovereignty. Here we are, shaky with our French, and she wanted to have an intellectual political debate about why Quebec should become a country.
We were forbidden to speak English, but I remember saying, in English "This debate is unfair. I cannot articulate myself fully in French." After much protect from the other students, the instructor said, in English "You're right. Maybe another time."
The decimation of the PQ party in the 2014 Quebec provincial election doesn't mean sovereignty goes away…
Every generation has to deal with this. Mine was the 1995 referendum. Thirty years from now, it'll be something else. The seeds are being planted, new leaders are being molded and the question of an independent Quebec will always dot the political discussion in Canada.
Here's what I know…
Quebec cannot exist without Canada. And Canada cannot exist without Quebec. I am richer intellectually and culturally because someone took the time to teach me French so long ago. Because of that spark, the French language is as much a part of me as the colour of my skin and the experiences I have gone through.
Just like French cannot be separated from me, Quebec cannot be separated from Canada. Another Parizeau, Bouchard, Marois and most likely Péladeau will rise up to raise the sceptre of separation, but it will not happen in my Canada. Ever.
I thank God for the Parti Québécois defeat. I thank God that Marois is being sent packing. And I thank God for how He'll work to keep Canada a united, strong country, no matter who will sing the song of separation in the future.