Otherwise known as a content curation, content curator, or digital curation, the Digital Curator is a role that will become is important to a company or brand's marketing department.
What is a Digital Curator?
First, I like the term Digital Curator over Content Curator because the former speaks to more than just content, but is specific to data that's being generated digitally.
Rohit Bhargava defines the role of the Content Curator as:
the act of finding, grouping, organizing or sharing the best and most relevant content on a specific issue
I'll use this definition for the role of the Digital Curator. As early as 2009, bloggers have been highlighting the rise of the Digital Curator.
You don't need to create brand new content…
The big reason why is that there's more than enough content out there for you to repackage (a video speech can become an ebook), borrow (specifically expert interviews), or ethically steal (I'm referring to PLR or Private Label Rights content).
In the infographic below called Data Never Sleeps 4.0, you'll get an idea of how much content is created on a minute-by-minute basis.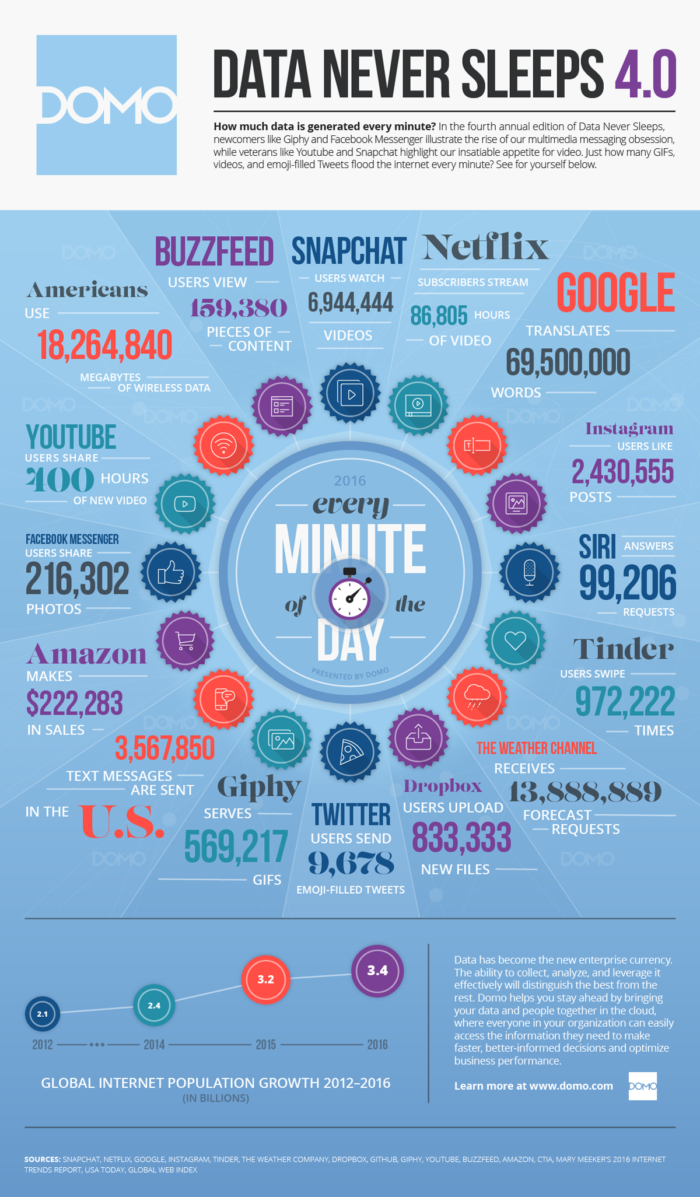 Again, there's no need to come up with new content. You can either:
Take what's old and make it fresh. In other words, repurpose what you've already produced, and publish in a different format. So, if you have a video recording of a presentation, transcribe it, then publish as an ebook, special report, or a blog post (or, all of the above).
You down with OPC – borrow other people's content (OPC) and share it on your platform. Expert interviews using podcasts or virtual summits come to mind. The use of link round-ups that some bloggers used to do once a week is a great example of borrowing other people's content. Other examples are links shared through your social media profiles, digital "newspapers" such as Paper.li, or online multi-author blogs, such as Huffington Post or Medium.com.
A Digital Curator will find, organize, and highlight the best information that your company or brand can share…
This frees up your marketing department from the tiresome burden of creating brand new content every week. Instead, your marketing department can use their creative force to decide how best to publish and share this content with their clients, prospects, and fans.
A Digital Curator can also digitize your physical assets…
When I say physical assets, I'm referring to print photos, print brochures, faxes, newspaper clippings, books (which can be digitized and sold as an ebook if you own the copyright), tapes and cassettes (which can be digitized and sold as an MP3 download), etc.
A Digital Curator is an expert at tracking things down (otherwise known as research), so if you've been itching to have your physical assets digitized, a Digital Curator can do this.
Need help?
Click here to find out how my team can help your company curate the best content for your brand. We can either work with your marketing department to curate content for you, or I can speak to your group or audience about the benefits of being down with OPC (other people's content).