Need a leadership speaker who can guide your audience on how they can create truly inclusive teams within your company or corporation? Book Leesa Renee Hall for your next event!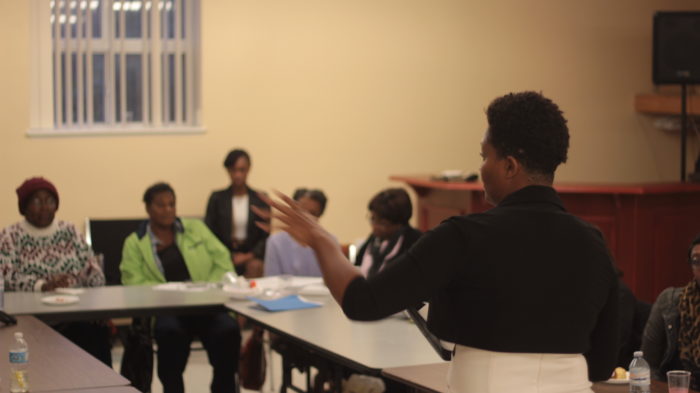 The decision to hire a speaker for your next event can either make it a sizzle – or fizzle. Only Leesa Renee Hall has the insight, humour and motivation to help your attendees understand how to become effective leaders within a diverse landscape.
Leesa is available for speaking engagements for your upcoming annual general meeting, association event, tradeshow or training session. She's also available to facilitate panel discussions and emcee events.
Videos
Here are some video clips from a few speaking engagements to give you a sense of Leesa's speaking style.

Testimonials
A speaker needs to do more than entertain or make attendees feel good. He or she needs to inspire action. Check out what attendees had to say about Leesa's message and teaching style.

| | | | |
| --- | --- | --- | --- |
| "Wish we had more time…" | | | "Financial and fitness breakthrough…" |

Session Topics
Leesa focuses on helping leaders use the power of questions to become more effective leaders. Each topic can be customized to your industry or group so that the content is relevant to your audience.
Click on the arrow to see the description and learning outcomes for each session.
The Art of Curious Inquiry: How to Use Meaningful Questions as a Powerful Leadership Tool
Click on the Arrow to Read More About This Topic
Too many leaders are overwhelmed with too much information and multiple demands. It's often easier to bark out orders, rather than get their team to share their ideas using curious inquiry. 
Curious inquiry is the art of asking meaningful questions in order to get meaningful answers. The way to regain trust and to uncover innovation ideas is to ask questions. Using case studies and research, Leesa Renee Hall shares how you can build a better team and become a more effective leader using curious inquiry as your secret weapon.
After attending this session, audience members will walk away understanding the following:
How playing the organ for the first time helping Leesa uncover the art of curious inquiry
The neuroscience behind why questions work better at changing human behaviour, as opposed to confrontation
How to craft the right questions – and which words to avoid
Case studies of companies, celebrities, and corporations who have used questions to connect, engage and inform
The Curious Inquiry Structure and how to use it so you create a culture of inquiry within your company or corporation (Leesa will take your audience through this step-by-step)
Topics: Leadership, Diversity, Sales
My Year of No: How I Expressed My Boundaries in a Graceful Way for an Entire Year
Click on the Arrow to Read More About This Topic
The word "No" is one of the hardest to utter, yet it can save you from working with over-demanding clients or wasting energy on projects and tasks that deplete your enthusiasm and cashflow. How can you say "No" without feeling guilty or being mean? Join Leesa Renee Hall as she shares with you a 4-step process on how you can graciously say "No" to the prospects and clients you don't want to work with so you can say "Yes" to the things that truly bring you joy, abundance and peace.
After attending this session, audience members will walk away understanding the following:
How a group of feral cats made Leesa realize that she had to start saying "No"
What you need to anchor your "No" in so you don't feel like you're harming the other person, or missing out on future opportunities
Why your "No" must be spirit-rich and what that truly means
The 4 Ps you need to use to craft your spirit-rich no
Case studies of clients who have used the 4 P system in both their personal and professional lives
Topics: Sales, Leadership