Need an innovation speaker who can guide your audience on the future trends and definitive technologies to focus on now? Book futurist Leesa Renee Hall for your next event!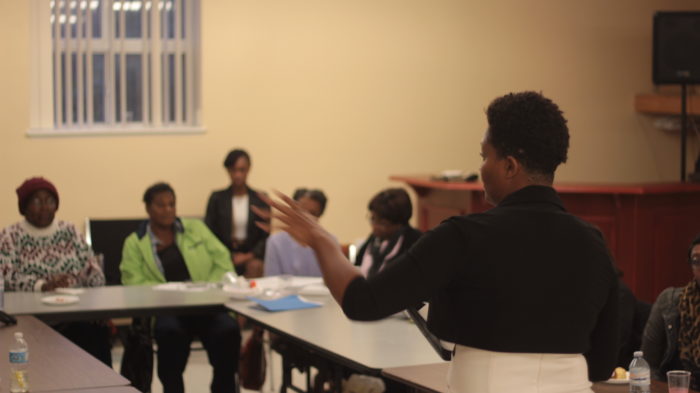 The decision to hire a speaker for your next event can either make it a sizzle – or fizzle. Only Leesa Renee Hall has the insight, humour and motivation to help your attendees understand how to prepare for the next trend in the tech landscape.
Leesa is available for speaking engagements for your upcoming annual general meeting, association event, tradeshow or training session. She's also available to facilitate panel discussions and emcee events.
Videos
Here are some video clips from a few speaking engagements to give you a sense of Leesa's speaking style.

Testimonials
A speaker needs to do more than entertain or make attendees feel good. He or she needs to inspire action. Check out what attendees had to say about Leesa's message and teaching style.

| | | | |
| --- | --- | --- | --- |
| "Wish we had more time…" | | | "Financial and fitness breakthrough…" |

Session Topics
Leesa focuses on innovative ideas, the future of technology, and futurism, and how all these things will affect our work and our play. Each topic can be customized to your industry or group so that the content is relevant to your audience.
Click on the arrow to see the description and learning outcomes for each session.
Telling Sells: How to Open Doors & Close Deals Using the Power of Stories
Click on the Arrow to Read More About This Topic
According to a report published by Open University1, 73% of social media users believe that deception online is widespread. With so much information to go through, social media users are having a hard time knowing what's fact vs fiction.
Storytelling is a great way to cut through the clutter, but if the story appears too good to be true, or if you share the wrong parts of your story, it will only create doubt between the listener and you, the teller.
The way to regain trust and be memorable is to share your personal using a proven story structure. Using case studies and research, Leesa Renee Hall shares how you can use your personal story to connect and engage better.
After attending this session, audience members will walk away understanding the following:
How playing the role of a 70-year woman on stage for a sold-out show helped Leesa understand why business storytelling is different from other storytelling methods
The neuroscience behind why stories are remembered and how it triggers our brain to want more
How to know which parts of your personal story to include – and what to leave out
Case studies of companies, celebrities, and corporations who have used stories to connect, engage and inform
The Signature Story Structure to use so you design your story in the most optimal way (Leesa will take your audience through this step-by-step)
Topics: Sales, Leadership, Retention
Innovate Your Income: Using Future Trends to Make Money Now
Click on the Arrow to Read More About This Topic
Innovation, not information, will drive the future of the global economy. Those who embrace innovation will be the ones to benefit financially. But if you feel that you or your company are not innovating, how can you can you do so without being left behind?
In this session, Leesa Renee Hall shares how a childhood habit, running on her tippy toes, shaped her professional choices later in life. Although innovation is about taking quick action, Leesa shares the lessons she's learned along the way so you can adopt what works and avoid what doesn't.
After attending this session, audience members will walk away understanding the following:
The prediction Leesa's dad made about her career path based on her running on her tippy toes
The facts behind why innovation is the key to both financial and professional success in today's economy
The top 5 innovation myths (and the truth behind each one)
The power of slowing down and how to do so without losing momentum or falling behind
Case studies of companies, celebrities, and community groups who moved too fast too soon – and how you can avoid these mistakes
The C.L.E.A.R. method that shapes the innovator's mindset – and how you can quickly adopt these traits in your personal or company brand
Topics: Change Management, Leadership, Futurist
The Art of Expressing a Spirit-Rich No: How to Express Your Boundaries in a Graceful Way
Click on the Arrow to Read More About This Topic
The word "No" is one of the hardest to utter, yet it can save you from working with over-demanding clients or wasting energy on projects and tasks that deplete your enthusiasm and cashflow. How can you say "No" without feeling guilty or being mean? Join Leesa Renee Hall as she shares with you a 4-step process on how you can graciously say "No" to the prospects and clients you don't want to work with so you can say "Yes" to the things that truly bring you joy, abundance and peace.
After attending this session, audience members will walk away understanding the following:
How a group of feral cats made Leesa realize that she had to start saying "No"
What you need to anchor your "No" in so you don't feel like you're harming the other person, or missing out on future opportunities
Why your "No" must be spirit-rich and what that truly means
The 4 Ps you need to use to craft your spirit-rich no
Case studies of clients who have used the 4 P system in both their personal and professional lives
Topics: Sales, Leadership