Some of the biggest influencers in our history have written some of the most influential pieces of poetry, plays, and ideas.
King David wrote most of the psalms in the Bible and it is read by many Christians who find comfort through his words.
William Shakespeare wrote a collection of plays which are still staged 500-years after he wrote them.
Maya Angelou wrote some of the most iconic and most memorable poems of our time which women of many races embrace as their feminist anthem.
To influence is to write and to write is to influence…
In the first four days of the 21-day Write Early Challenge, the participants have written just under 40,000 words in just 4-days.
With a 75% participation rate, each participant wrote an average of 811 words in 29-minutes. That's 3,244 words written in 4-days.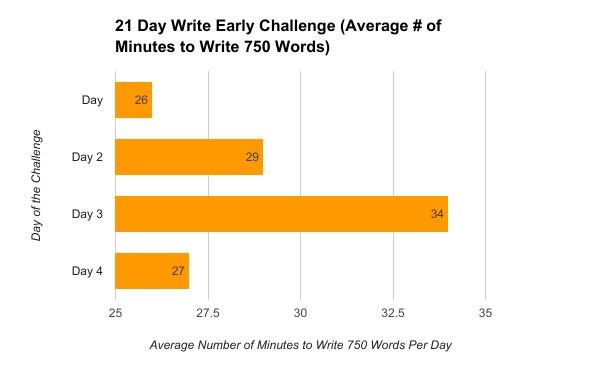 They write without censoring or editing themselves. Otherwise known as expressive writing, the participants simply write what's on their mind and deeply embedding in their hearts.
See what you can do when a community holds you accountable?
Here's what one participant wrote:

Whether you want to write to heal or write to publish, when you're relying less on willpower and more on community power, you reach your writing goals much faster.
"If you could do it alone, you would have done it already"…
That's a line from a radio commercial for a Toronto-based weight loss clinic for men called Harvey Brooker.
The weight loss clinic has had success helping men release the excess weight. "Most of them tried other programs and methods, many of them had given up hope, and yet every single one of them has succeeded," the website claims.
Just like with weight loss, you can experience longterm writing success if you rely less on yourself…
The reality is that without the right support, you'll never develop the daily habit to write early.
Even I had to join a group to be held accountable to my early morning goals. Now that I've been writing at 4:30am for the past six-months, I've invited others who want me to hold them accountable to creating a daily habit of writing early.
Want to join the 21-Day Write Early Challenge?
Click here to see if the doors are open. You can enroll up to seven days after the challenge has started. After that, the doors close and you'll have to wait for the next intake.
If you haven't written 3,244 words in the past 4-days, and you really, really want to write what's in your head and in your heart, join the challenge and let the community hold you accountable.