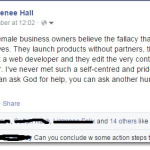 The other night, my niece and I enjoyed a girls' night in as her parents (my sister & brother-in-law) went on their first date night to see Stevie Wonder in concert.
It wasn't easy to get her to fall asleep…
Her bedtime was at 7:30pm, but she cried and cried and cried. I finally put her in the car and drove her around town for 40-minutes while playing her favourite CD.
She was out like a light.
By the time I returned back to my sister and brother-in-law's home, my niece was more than ready to fall asleep in her bed.
She's my "Why."
Why do I remain self-employed when some months make me want to scream?
Why do I sacrifice getting some of the things I truly want (not need) so I can continue to operate my own business?
Why do I invest in a coach even though at times I wish I could re-direct that money to a pair of new winter boots?
Why do I get up early to read blogs posts, meet with my virtual team and prepare content for the week?
Why?
Because of my niece.
As you spend time with family in the spirit of gratitude…
Ask yourself if any of them represent your why. If yes:
Why, then, do you short-change yourself in your business?
Why is it that you're not willing to invest in yourself to push your business to a new level?
Why do you keep telling yourself that you can't afford to spend money on that workshop, that bootcamp or that coaching relationship?
Why are you so stubborn and prideful about NOT asking for help so you can be the person you dream of being?
In fact, this rant pretty much sums it up…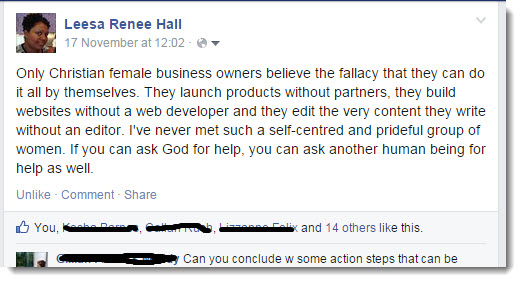 I'd love to hear your thoughts…
Share them below. What's your "Why" and why aren't you putting aside your pride to invest in help?