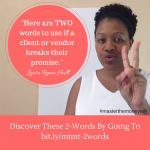 A few years ago, I reached out to a colleague who offered a service I needed for one of my clients. I emailed my colleague, he was away at an event, but asked that I fill out a creative brief.
It was 5 long pages…
I mumbled as I printed off the document, filled in the pages, and then sent it back to him by (get this) FAX! But because I respected his work – and because I really needed to outsource the task – I honoured his process.
He responded within minutes…
My colleague was at a conference, but said he would get back to me with pricing on Monday. Well, 3-days, turned into 2-weeks, and I still didn't hear from him. So, I ended up having to do the task myself.
Oh, I was bitter…