Brainstorm with Joel and Pei:
The coaches helped Alisa in California come up with exciting, new ideas, for attracting ideal customers to their upcoming webinar series.
Expert's segment: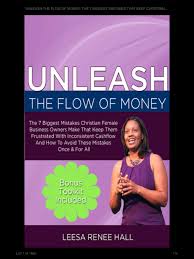 On the heels of her latest eBook release, Leesa Renee Hall joins us on the show. She is a #1 Amazon bestselling author, award winning speaker, and a money mindset mentor. In her latest book, Unleash the Flow of Money, she helps Christian female business owners avoid the seven biggest mistakes that keep them from creating consistent cash flow.
Path of Development – After a corporate layoff, followed by eight months of empty interviews, Leesa made a decision based on passion and necessity – she started her own business. And, while she quickly became known in her field, and sought after as a speaker, she had a big challenge to overcome, she was hurting financially and at the brink of bankruptcy. It was at her lowest point that she made a decision to break the cycle of poverty and to replace it with a cycle of prosperity.
Read more…