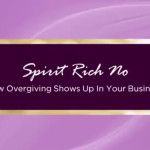 In my last post, I shared why the trait of overgiving is so dangerous to female business owners.
I should know…I'm a recovering overgiver myself.
It took a really great coach, some hard learned lessons and alot of self-discovery to kick the need to overgive.
Knowing WHAT overgiving is brings awareness, but understanding the root of overgiving opens a whole new door.
In this week's teaching, I share what's at the root of overgiving.