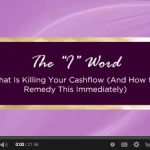 Recently, I asked those on my list to fill out an application to secure one of a few spots to speak with me over the phone about their cashflow challenges.
As I poured through the applications, there were some really heart-breaking stories. Some are experiencing chronic unemployment, others are living paycheck to paycheck and still others are deeply mired in debt.
Despite the money drama, all have one thing in common…
And that's what I explain in the video below. There's a word that starts with the letter "i" that is killing your cashflow. Although this video teaching is directed to those who were not invited to book a session with me, I'm sharing this widely because I know someone can benefit from this information.
This "I" word is harming your cashflow, confidence and connections…
If you can understand why your money is stuck, you'll be able to move forward. I offer some tips on what you can do to remedy this issue so you can claim victory over money drama.
Click on the Play Button & Turn Up the Volume