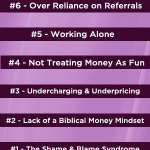 This virtual bookmark outlines the 7 mistakes Christian female business owners make that keep them frustrated with inconsistent cashflow. I invite you to share this with your network so they too can understand what's keeping them stuck.
If you'd like to read about the 7 mistakes in more detail, click here to download the FREE 10-page report.
What others mistakes would you add to this list? Post them in the comments area below.